Aircraft Sales
This is our current portfolio.
Last Update: 03-Jul-2016
All descriptions on this page are Seller's Descriptions. Rainbow Aviation accepts no responsibility for the accuracy thereof and buyers must satisfy themselves as to the veracity of items before purchase.

6000hrs TT on fuselage 450 Hrs on recon Viper to be fitted for the sale. Currently located in Slovenia ready in early September 2016.

Unusual spec FGA ( 47 ) Special Order Hawker Hunter . Interesting history , stored for thirty years or more. In a stable middle eastern location. Little sunlight damage , if any. Absolutely no corrosion , some paperwork available , some not. Sadly most rubber and other time eating items have suffered somewhat , however a rare chance to buy quite an historic time capsule.

A remarkably complete aircraft minus the engine and jet pipe. she has a full suite of instruments as well as the ejection seat and gunsight.

Needs to go fairly soon hence the asking price of only £6K. Buyer collects.

More pictures available here.

L-29 Delfin

This L-29 is in very good working order. It has flown regularly and recently.

The engine is almost new at approx 50 hours.

In maintenance right now having its annual service. Will be completed end of next week.

It has a complete set of new hydraulic and fuel pipes.

Tyres are in v good condition with little wear.

Flight instruments are standard with the following additions.

2 x VHF radio fit; Garmin 250XL radio/ GPS and Bendix King NAV/ Com.ILS fit.

Dynon D6 AHARS horizon/compass. New 5 point seat harness in each cockpit.

Ejection seats are disabled i.a.w CAA modification.

Newly repainted. Excellent finish.

Maintained by RAF engineering.

It is on UK CAA "permit to fly" regulations.

Can be flown by PPL holder, with suitable training.

Training can be provided in house by qualified instructors. Instructors are CAA approved to instruct on type. They are current flying instructors with RAF fast jet back ground.

Instruction costs and flying costs are not included in the airframe price.

Ideal for a US racer. ready to be shipped.

RA01611. It is currently in pieces but has a very interesting colour scheme.

The cockpit and forwards has been used on another aircraft, but there is a replacement front cockpit that can be attached.

Therefore the paint scheme would have to be reblended to regain its original Tiger look!

The engine has some corrosion and is removed from the aircraft at the moment.

Whether this would make a gate guard or would fly again would be "customer" dependant.

It is still on the Russian register. The change process is straight forward and takes around 1 week.

Available now.

This aircraft can be transported by road and we have the necessary means to do that for the customer. Again at their expense.

I also have a large stock of spare parts that may be offered either in its entirety or sold by individual parts as required.

Spares are not part of the aircraft sale and would be negotiated separately.

2 X Hawker Hunter T-64`s one flown last year but now ready to road transport , second one was going to be a spares source but it was decided too good to break , also ready to road transport. Both are ex Swedish air Force modified by Hawkers to current T spec. Located in France. Desirable spec and very rare.

Two Hawker Hunter T-7`s for restoration. (library picture). Both basically complete with some engine hours left with paperwork. Wings off ready to ship anywhere. Currently located outside the UK. More details to follow soon.

Pembroke

Our Pembroke is XF 799 and was one of the last 2 60 Squadron aircraft that were involved in "Operation HALLMARK" (Google it). The Pem is offered as a package with an ex-Belgian MK-51 parts aircraft. In addition, there is a 40 foot container (9.5 foot high top) filled with mostly new components and a 20 foot trailer with used stuff to include engines, landing gear, brakes, control surfaces, cowlings, propeller (and other ECU parts).

Entire package is $60,000.

This is the Gnat that we built 15 years ago at the cost (then) of $650,000. I know that the CAA won't let an American registered and modified Gnat fly in UK skies, but she is beautiful! After we return her to Denver and complete the FAA approved AAIP (Approved Aircraft Inspection Program) she will be placed for sale. She will come with a complete set of spares including an extra engine, brakes, tires, etc.

For sale , L-29 Delphin , in superb condition with 0 timed engine. Comes with an interesting and optional flight package . very frugal with the fuel burn rate unlike most warbirds. Currently located in the UK and ready to go. an absolute bargain for £35,000 , treat yourself! Viewing by appointment only. This aircraft is great fun to fly and is based where the hangar rent and fuel are at a VERY competitive rate.

| | |
| --- | --- |
| Powerplant | Motorlet M-701 ( 1960 lbs thrust ) |
| Max speed level | 407MPH |
| Endurance | 2hrs 30 mins |
| Stall | 81mph , 71kts |
| Range | 550 miles |
| Climb | 2,755 ft/min. |

One and a half P-51D Mustangs , one complete and running aircraft needing  mechanical and airframe overhaul , one big pile of parts including good wings and U/C , tail section , good canopy , some engine parts including gears etc props ( good ) with some paperwork and all airframe and engine serial number plates. Last flown in 1978. Current location Australia. More accurate inventory and detailed photographs to follow in the next week or so..Offers in the region of £600,000.

These aircraft were operated by the RAF as Navigational Trainers from birth until their retirement from the RAF in January 2011. After a UK tour the aircraft were released for sale and repositioned by the current owners to Kemble Airfield in June 2011.

Full logbooks are available with the aircraft, along with a wealth of ex Royal Air Force maintenance manuals and data.

Avionics are modern for an aircraft of this age due to continuous upgrades by the Royal Air Force throughout the life of the aircraft. Avionics are complete except the removal of the military transponder set. Assistance can be provided to enable installation of a civil transponder to replace the removed system.

The aircraft are available for inspection at Kemble Airfield (EGBP).

For full details of each aircraft, download a PDF file here.

L-29 Delfin complete cockpit section , with seats , guages and everything. Open to sensible offers , can deliver.

Hawker Hunter T-8 , complete aircraft wings off ready for transit / shipping. Needs cartridges , annual etc. Low hour engine and good FI. comes with ladder , blanks , bungs , and all chutes. Complete with all logs and certs et al.

Absolute bargain @ £25,000 may P/X interesting car WHY?

G-BXFIT7

Airframe hours 5931:30

Engine Hours 351:40

Seat Cartridges Due 01/2013

Major Service Due - January 2012

Fatigue - Fuselage 30.074620

Port Wing 53.760264

Starboard Wing 32.850310

Avionics

Dual radios, one is 8.33 spacing

Mode S transponder

KMD 150 moving map GPS

Electric start conversion fitted (value £15,000)

4 x 100 gallon drop tanks

Fantastic paint scheme in excellent condition

The Mirage V was bought last May. There were two aircraft sold at the time.  It is an ex Belgium (S/N BA-33) aircraft and is complete, except for the engine.

The aircraft is located in Southern France and is ready to be moved as we have not restored the aircraft after transport.

The aircraft is being offered at 85,000 Euros. The last one has been sold at 125,000 Euros to a French investor/collector

We have an extremely rare opportunity to sell a De Havilland Sea Vampire XG766.

This aircraft is complete with a very low hour 35 series Goblin engine. Interesting history and comes with a huge amount of spare parts. A very interesting project with everything to finish.

Located in the south of England Viewing by appointment only.

Price on Application

Diamond DA-40 , Only 55hrs total time. Currently in Odense. An immaculate , well appointed and very modern light aircraft. Very useable and a bargain. $130,000.

Jet Provost Cockpit

Complete and in good condition. Located in the midlands UK , open to offers.

A rare opportunity to acquire a flyable Tandem Seat Hawker Siddley Buccaneer all up together after a little fettle. A real monster , currently still sporting its experimental tornado nose radome. This was only granted a permit to fly to its current location in the south until such time that the original nose section is refitted. Ex Gulf war 1991. FI on wings and fusalage is excellent , was MOD XX897.

Parts are available. Offers in the region of £35,000. Viewing welcome.

A quantity of four FB50 Venom fighters all for restoration, some better than others. All totally complete One middle east service with air conditioning. open to sensible offers.

We have approx 15 tonnes of new and repairable spares for this type, including 5 new zero hour engines. Have a look at our Parts for Sale page for more details.

Baby Great Lakes Aerobatic Bi-plane

Fantastic little airplane for sale. It is aerobatic and flies beautifully. Built in 1984 by Robert Shindler - a real pro - costing a considerable amount of money. The plane is currently in the USA and that is why it is going relatively cheap as I have been offered a share in another aircraft. I will help as much as I can with all shipping and importation in to the UK. It is real easy.

This aircraft has about 150 hours total time on the airframe and Continental 75 engine since complete overhaul/inspection. Comes with a fresh Inspection certificate and a new spinner (never fitted). There is no electrical system so it has to be propped but a drill type starter can be alternatively purchased for this if you prefer. As for performance, stall speed is approximately 55mph. Power off, it will take off in approximately 5 seconds and will land in 500 feet (ground roll). The plane burns approximately 4-4.5 gallons per hour and holds 12.5 gallons and cruises at 110-115 MPH. She will climb at 2000ft/min. She's ready to Fly!

Best quick offer and payment will secure as this is just the cheapest way you can fly and own your own aircraft! Similar planes in England would be fetching around the £20,000+ figure.

£15,000 - SOLD

Piper Cub £26,000 L18C 1952

Piper L18c

(Military version of original Super Cub)

Built 1952 for Lend Lease for the Italian Air Force

Airframe:

3188 hrs,

Ceconite Fabric with Stitts Dopes

Metal spar wings, two wing fuel tanks for 6.5 hrs endurance at 80kts

Major refurbishment 1994

Engine:

Continental C90-8-F

1691hrs TT, 731 since Major o'haul 161 since Top o'haul

Chris Lodge wood Prop.

PFA Permit to Fly, expired April 2010 will be renewed soon

Engine compressions at last annual 76/80, 76/80, 75/80, 77/80.

2 tanks so has 6.5 hour range. Metal spars etc

Engine has done about 800 hours since rebuild and approximately 3,000 in total

Instruments:

In addition to the basics there are venturi driven Horizon and DI.

No Avionics,

I use a hand held radio with an external fixed aerial and have found that gives up to 90nm com at 3000ft.

All Ads for PA18 and C90 are complied with.

Price: sensible offers considered circa £25K

Jet Provost Mk5 complete aircraft dismantled ready for transport, half life Viper .An excellent and easy project. £23,000.

SU-25 (NATO Codename: Frogfoot) X5

Recently retired from Czech air force. All built in the 1970s and all are tandem seat. Good reliable easy to service rugged ground attack aircraft. Currently located in Czech republic.

Two already sold. Only two fliers left plus one "spares" aircraft.
In instances where the seller may wish to remain anonymous at this preliminary stage of your enquiry, the picture of the aircraft will be a library picture.
Details of more aircraft for sale currently being prepared. Please return here shortly as we hope to be able to provide details soon.
For Sale


Solo Galed S2


FGA (47) Special Order Hawker Hunter


Gnat


L-29 Delphin


Hawker Siddley Dominie


Hawker Hunter T7


Mirage V


Diamond DA-40



Hawker Siddley Buccaneer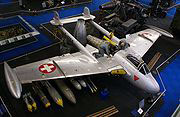 FB50 Venoms


Baby Great Lakes


Piper Cub


Jet Provost Mk5


SU-25